Implementing Affiliate Tracking is Easy with Shopify
The Shopify App makes it simple to set up tracking. Our system allows you to track and manage sales and activity from all FlexOffers affiliate partners (also known as publishers, influencers, and bloggers). The app is the only Shopify store integration required, and it gives you complete access to the FlexOffers tracking platform, where you can manage publishers in detail and advertise various programs, products, and services.
To continue, you must first create a FlexOffers account (click here to apply). You'll receive an 'Advertiser ID' from your account, which you'll need to set up the Shopify app. Your FlexOffers account has a profile page dedicated to your company, where you can choose the commission you want to pay publishers and access all of the features and controls you need to expand your program to its greatest potential.
Here are the Step-by-step instructions on how to install the Shopify App.
Step One: Getting the app

If you are an existing FlexOffers Advertiser, click on the "click here" hyperlink to set up the integration.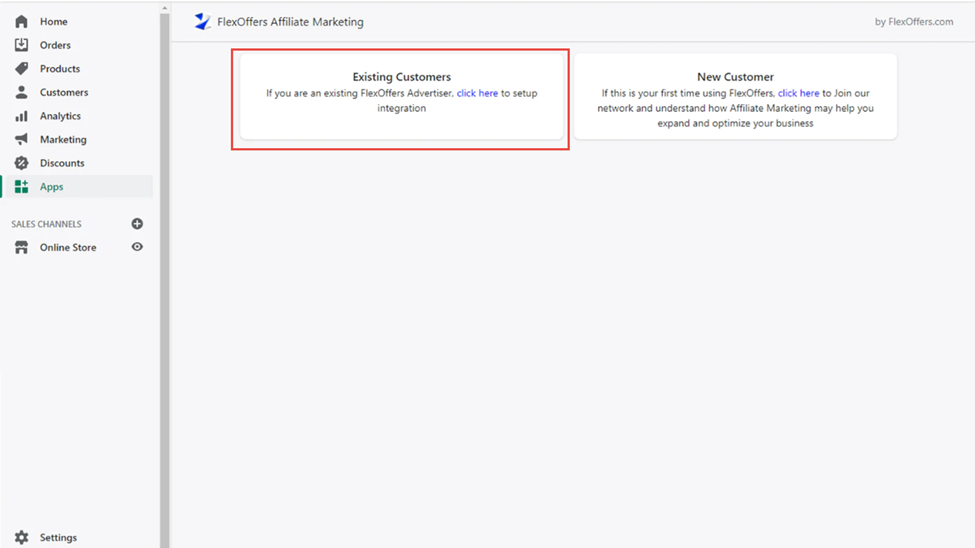 Click the "click here" link to log into your FlexOffers account.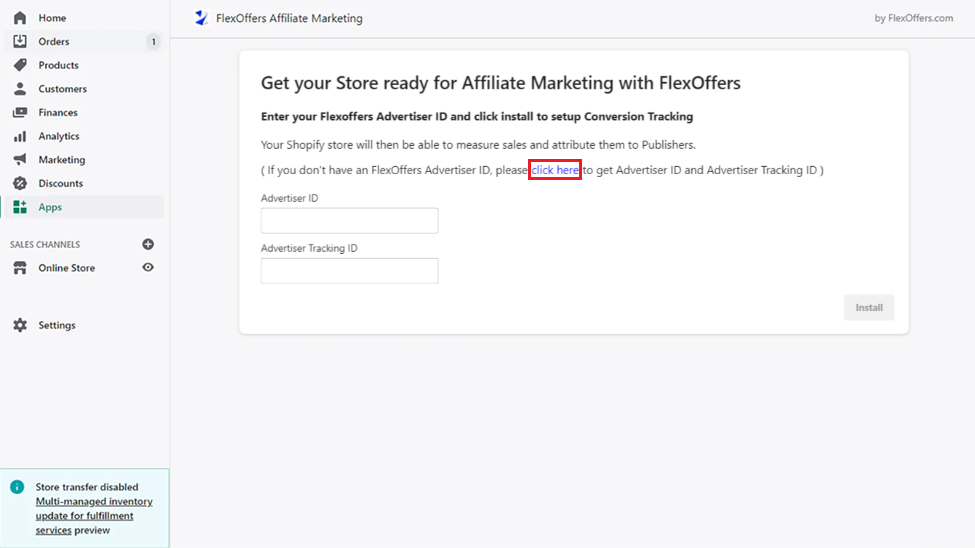 Enter your FlexOffers account email address and password, and click the Login button.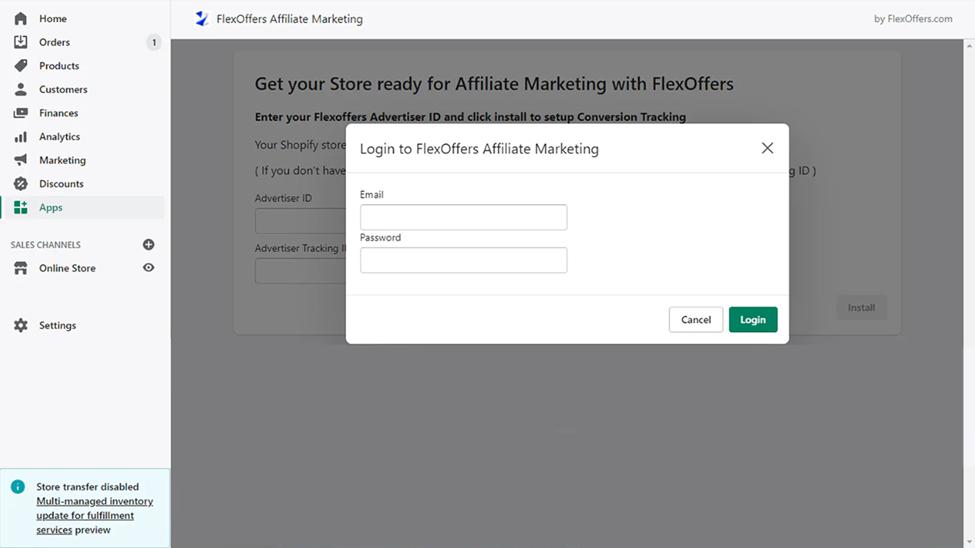 Your Advertiser ID and Advertiser Tracking ID will auto populate. Click Install.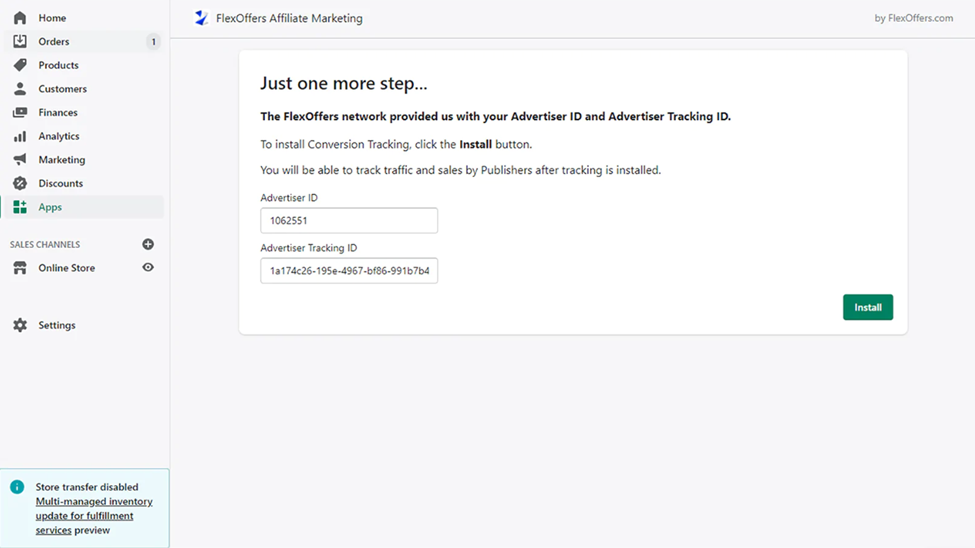 Last step – Tracking Diagnosis Test
After integrating the FlexOffers tracking you will need to create a test transaction via the FlexOffers Advertiser Platform to check the tracking is working properly.
To complete the steps to conduct a test transaction, please click here
If you are first time Customer
If you are a first time customer, click on New Customer to first join the FlexOffers network.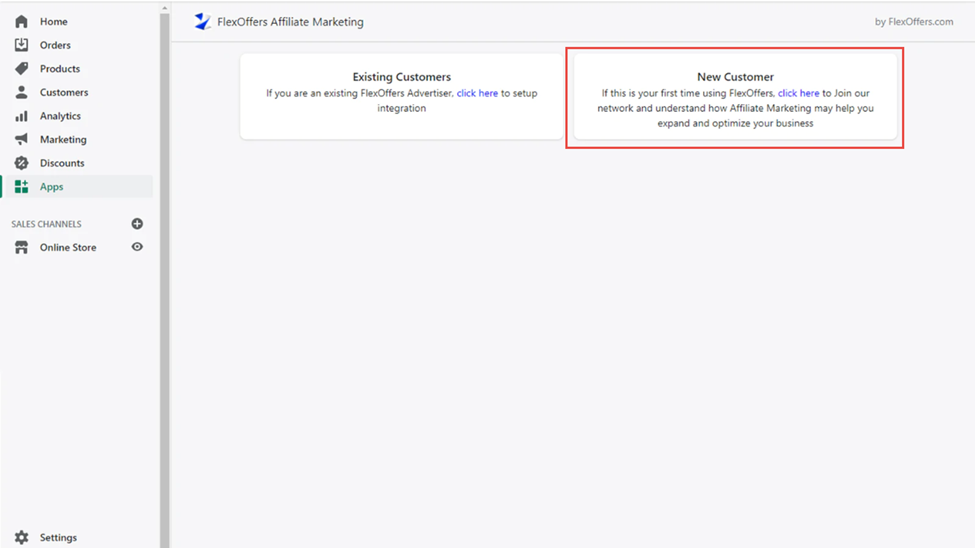 Troubleshooting:
If you receive an error message while trying to login at FlexOffers, please check to make sure the domain URL entered on your FlexOffers.com account matches your Shopify store URL.